Oracy
---
"Oracy develops students' confidence, articulacy and capacity to learn. To provide a high quality oracy education empowers pupils, regardless of their background, to find their voice for success in school and in life." Voice 21
What approach do we follow for teaching oracy?
We support the development of good speaking and listening skills amongst our pupils through developing vocabulary and spoken language. Correct spoken language and the development of vocabulary are fundamental to learning and communicating.
We aim to teach our children how to listen to others, how to speak effectively in a range of contexts and how to use these skills to collaborate with others.
For oracy we follow a combination of two schemes of work, Voice 21 and Pixl. We have adapted the physical, linguistic, cognitive and social and emotional skills that are key to nurturing intercultural, lifelong learners.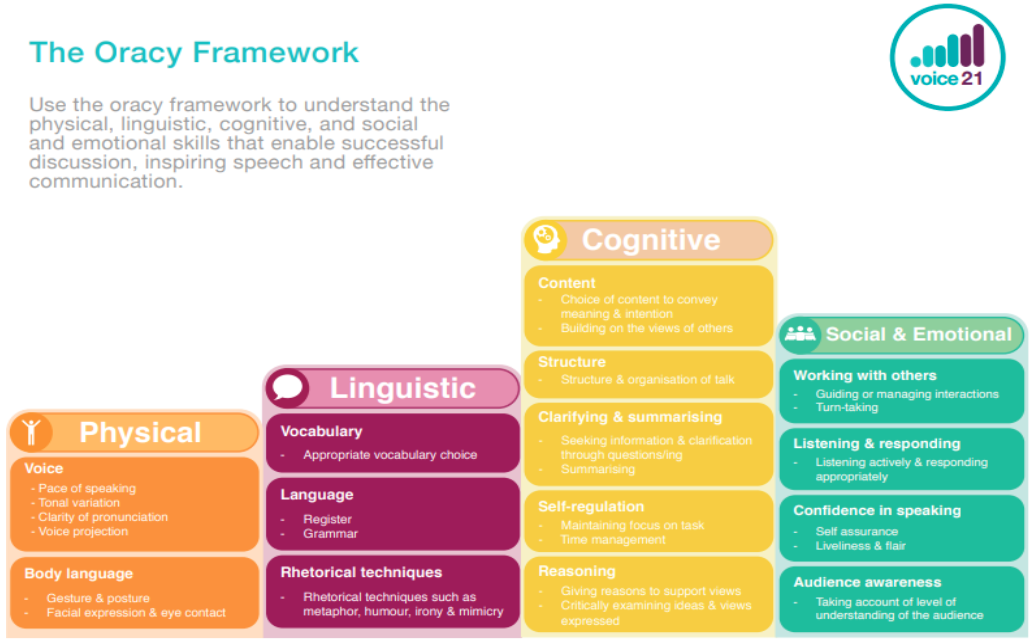 How do we teach vocabulary?
Every topic lesson includes key vocabulary teaching, the vocabulary is subject specific and important for the understanding of key knowledge in the lesson. Vocabulary taught comes directly from the knowledge organiser. We teach vocabulary through the approach:
Read it
Say it [accurately to your partner]
Define it
Use it [In context]
Every classroom displays oracy sentence starters at the top of their interactive whiteboard. Displaying sentence starters encourages and promotes talking in full sentences and the use of sentence stem starters helps to support development of speech and talk.
In Years 1 - 6 we have Oracy Champions, these children wear badges and promote the use of oracy in their classes. When a peer uses oracy accurately and effectively the Champion provides them with a sticker to celebrate their achievement and promote the development of oracy further.
Every class has oracy progress mats in their classrooms. The progress maps are there for the children and are written in child-friendly language. Children are encouraged to use progress maps to develop their oracy and sentence starters to develop talk.
In order to develop oracy in every lesson we use the WalkThru 'say it again better' (page 98-99 in yellow WalkThru book). Teachers ask children to reconstruct answers using standard English, technical vocabulary and more developed responses using the following steps:
Ask a pupil a question
Acknowledge the first response
How do we develop oracy and talk?
Give supportive formative feedback
Invite pupil to 'say it again better'
Respond to improved response
Oracy outcomes are planned and completed across the curriculum throughout the academic year.
We encourage partner talk in every lesson and the children 'rise and shine' when sharing a response to further develop their communication and speaking skills.
We use oracy groupings in PSHE to develop talk both independently and in groups.
Non-negotiables for oracy are displayed in every classroom and should be met consistently across the curriculum.